Tom Cote, a New Beginnings Missions Minister, took a trip to Kenya during the summer of 2010. He brought with him 115 bibles, 95 in Swahili and 20 in English.
Tom preached for two weeks all over Kenya and spoke 7 times in 5 days! He actually tossed his notes aside and let God work through him...he said it was 'totally the Holy Spirit' and was told they never had teaching like that before. Yes, a divine appointment indeed!
People walked 40 to 50 miles to attend these church services. They were fed steer donated by the missions team, which was a great treat considering their mainstay during the summer season is 'ugali' (cornmeal made into porridge with low nutritional value) and little to no vegetables are available.
One church that Tom preached at had only a partial roof. Donations were taken for a new roof - between that and the generosity of Tom and his wife Eileen, there was enough money available to 'raise a roof' on the church! The old roof was tin, which during a rainstorm made it impossible to hear sermons, much less praise and worship.
Tom said he did not choose the missions ministry - God chose him for it. He told God that he was waiting for someone to go with him to Kenya saying "You always sent disciples out two by two". God said "You can wait for somebody, but remember that I did not go with the disciples, but I sent them. When you go...you are going with Me". Tom was told the doors are wide open for his return to Kenya - and he encourages those who feel the call to go into the world to teach leaders!
Mission Statement:
'Fulfill the Great Commission'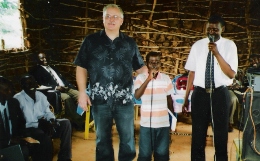 Tom and Mwingi,
Mwingi is an 11 year old evangelist who speaks fluent english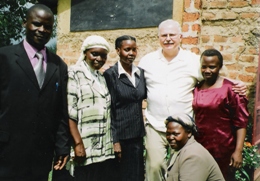 Tom with the National Administrator for the Missionary Group, his wife and children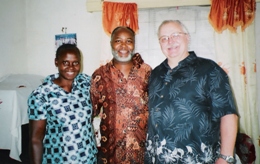 Tom with Bishop Cris Mwenesi and his wife, Joyce. Cris is the bishop over 75 churches in Kenya. He and Joyce hosted Tom at 7 locations in 5 days.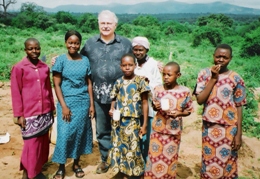 Tom with some friends drinking their morning coffee!
"If you are willing, God will open doors and He will change your life forever. Where God guides, God provides", he said.