Meals to Heal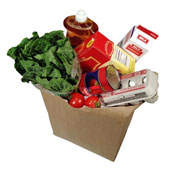 Donations Needed:
Pasta, pasta sauce, saltine crackers, canned chili and beef stew, rice, macaroni and cheese, instant mashed potatoes, Hamburger Helper, ramen noodles, cold cereal, hot cereal, canned meats (tuna, Spam), pancake mix, syrup, peanut butter, gravy packets, saltine crackers, canned vegetables and fruit, canned soup and paper grocery bags.
Need Other Ideas?
You can 'Sponsor A Bag' by putting together some of the items on the list above. If you wish to donate money to cover the cost of one bag ($30) or any other cash donation - please send it to New Beginnings, 518 NE Nash St., Roseburg, OR 97470. You can donate a grocery card, or utilize 'buy one, get one free' options at the store.
Thank you for giving, for praying and for caring!
Please contact us if you would like to donate or know anyone who needs food.
Contact information:
New Beginnings Church
541-957-1702