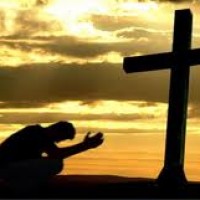 R U Ready? - Sunday, 6/26
by L.Strickland | June 30, 2011
During his sermon this morning, Pastor Randy reminded us that God knows our every thought – and what we are thinking at every moment. My mind was just returning from a split-second side trip and I found myself smiling at his reminder. It had gone to an elderly gentleman walking an old, slow dog that we saw in the park yesterday. We were riding bikes, mind you, but the Lord had given me reason to pause and acknowledge the man. He handed me a note card from a stack and asked me to read it. It contained a handwritten question about the reader's perception on who goes to Heaven and who goes to hell. He was sharing the gospel in the park yesterday, as I presume he does on many days. I appreciate that 'God moment'; that gentleman and his dog left an impression on my heart and I hope there are more out there that felt the same way.
Pastor's message today presented a simple question: 'Are you ready for Jesus' return?' It was based on Luke 12:35-48; keeping watch for His return. Every believer is called on to be spiritually ready at all times and to wait. "The Lord is not stupid! He knew if He gave us an exact date we would push the envelope. He is saying that we are to be ready at all times", said Pastor. "He gives us three reasons for readiness in this scripture – The Command, The Unpredictability and The Consequence".
The Command is to be dressed in readiness and to keep our lamps lit, in other words 'live your life right'. Jesus told us that if we love Him we will keep His commandments. Treating others right is a huge part of this, in my opinion. When you begin to respect and to love others it will change you from the inside out; it is letting that light shine before you so they too may want to know who this Jesus is! "We are to take action – we are to be like Him. Be ready, be alert. Don't be asleep at your post. Be actively involved in the Lord's work", said Pastor Randy. "You are in full time ministry, everywhere you go you are in ministry".
The Unpredictability of not knowing when He will return. "We don't know when He is coming back. This is emphasized no less than three times in this scripture (Vs 38, 40 & 46). It is emphasized in the New Testament over and over again; 'No one knows the day and the hour, not even the Son, but only the Father (Mt 24:36)'. I mean really, this is some pretty important stuff here! Jesus is coming back, if you miss that appointment you are in a mess; there is no rescheduling. Your command is not to guess the time of His return, it is to be ready at all times", said Pastor. He also reminded us that He knows our thoughts right now. He is aware of our motives and why we do what we do. We are going to slip up, we are human, but we need to be sure our hearts are in the right place and if we do slip up make it right again. Apologize, fix it, replace it…whatever it is.
The Consequence of not being ready is judgement (Vs 45&46). "The best way to be unready is to be an unbeliever; or to know but not accept, Jesus as your Savior…the next best way is to 'talk the talk but not walk the walk' of a believer. Therefore, a good way to examine yourself is to examine your own attitude about the second coming", said Pastor. He asked us if our attitude about it is one of inspiration and wanting to faithfully serve Him, or is it one of 'No big deal, I've been hearing this for years'?
"Where are you at today? Does the news of Jesus inspire you? Does your life do 'well' in church but not so good out there in the world?", asked Pastor Randy. "I will still worship and praise - for He is the one that brought me from where I was to where I am today"